Cars & Houses
Car & Houses is a car rental app and online house selling platform that allows users to rent cars online and deal in cars and houses. With both options, the app provides convenient services for car or house owners. Car renters can rent cars from anywhere in the world, providing them with a one-stop shop for all their transportation needs. For house sellers, Car & Houses offers an efficient platform to reach potential buyers without listing their homes on several different sites.
Buyers can find detailed specifications on cars along with prices from local dealers. They can also get upfront estimates on trade-ins and make offers via email or text message. House owners can post pictures of their homes, set up showings at the most convenient time, and arrange deals with buyers without going through the time-consuming process of selling on multiple websites.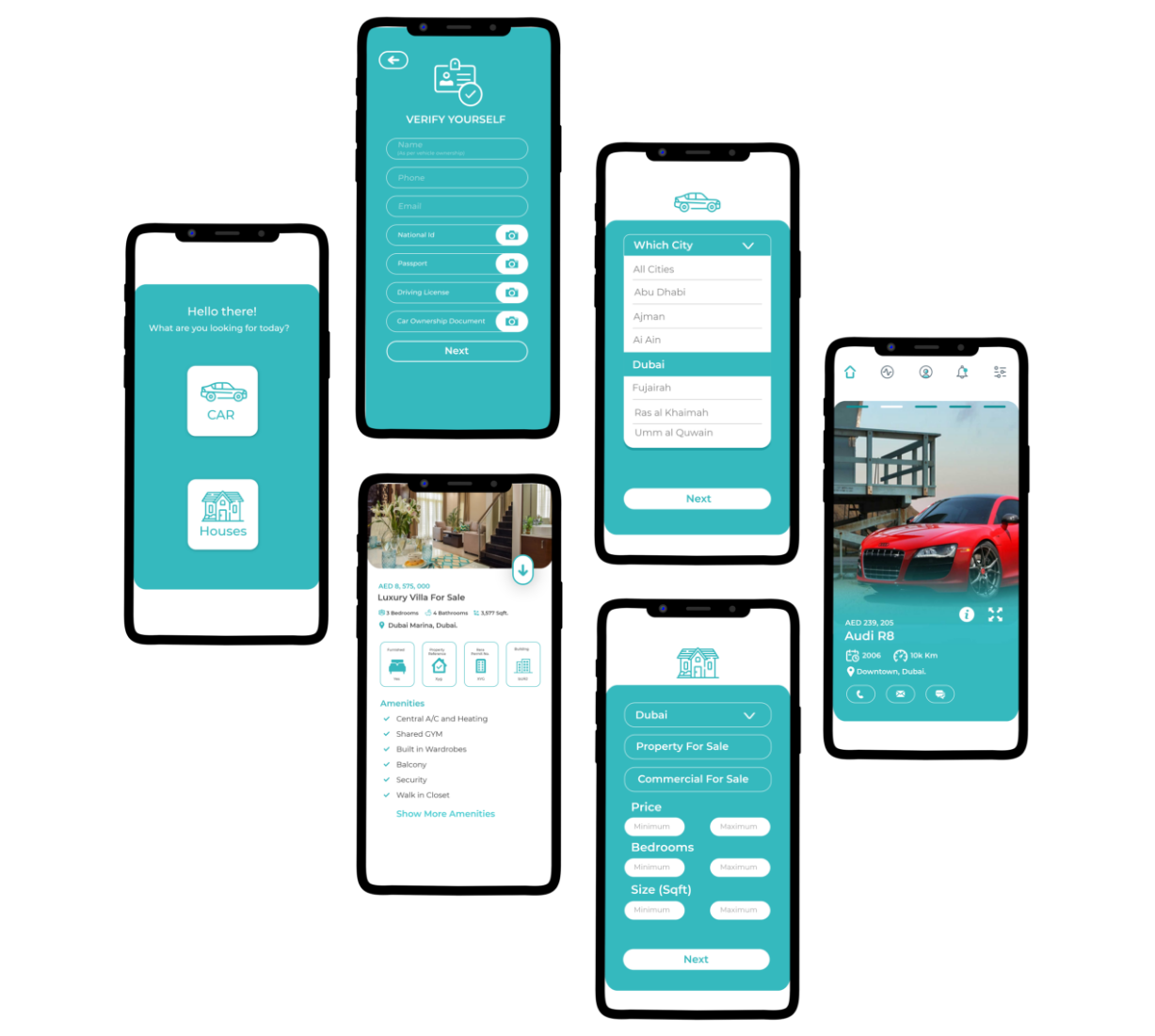 Features
Sign up & Sign In: With a single click, you can quickly sign up for an account. Users can use their social media handles to sign in with the app. Create an account and explore cars and houses you were always looking to own or sell your car here.
Filter Availability: By filtering the availability of a car, this app allows users to find the perfect car at their convenience. You can filter by year, model name, year/month, etc. You can also use a filter to buy a car of any specific specialization.
Push Notification: We know that finding the right car is difficult enough without having to check on availability constantly. That's why we will send you to push notifications when cars that meet your search criteria are newly added to our app.
Ads: Whether you're buying a house or selling one, Car & Houses makes life easier. Our ad platform helps people save time and money whether renting cars near me or selling homes online!
Manage Profile: After creating an account, go ahead and manage your profile by updating details such as name, email address and phone number. If you want to edit what cars or houses you want to see, navigate to the 'My Account' tab on the top menu bar and make changes from there.
Our Approach and Result
The reason behind developing this car rental app and online house selling app was that clients wanted to make it easier for people to rent cars and sell houses easily. We knew this app would need to be easy to use and work seamlessly with the user's phone, so we came up with the idea of combining 3 different apps. These are car rental app like uber, buying and selling house apps, and third would be car selling and buying the app.
We have undergone research for these apps and brainstormed to develop an app that features all these capabilities. Once we had a rough plan outline, we started the development process by identifying what kind of design best suited our product. Then, we designed the UI/UX to represent our car rental app best. Our team developed a user-friendly interface that makes finding cars available in your area easier. You can easily filter out cars by make, model, price etc.
Our vision has always been to give people more convenience in their daily lives, and with our online house selling app, we do that by letting people sell houses online. Both services' convenience is unrivaled because they eliminate many logistical barriers commonly associated with renting cars or selling houses.
The Complexities
It's no more secret that the world is becoming more technologically savvy daily. Gone are the days of driving all over town to find a car rental, waiting in line for hours to buy a car, or searching for a home for rent. The time has come for convenience!
We make this possible by operating on three main principles: innovation, efficiency, and customer service. And while developing the app, we faced many challenges, such as designing an intuitive interface without cluttering the screen and finding a reliable way to handle payments for our customers. But after months of hard work, we were able to release Car & Houses onto the app store where people can find quick access to both car and house rentals near them at their fingertips.
We have developed this simple-to-use app that facilitates communication between buyers and sellers, which is used to make car buying online, house selling online, car rental near me, and house rental near me convenient.
Car & Houses offers more options than any other app, allowing users to get cars or houses from over 500 locations across 15 states. All payments are handled via our app so customers can feel secure knowing they won't run into any issues while reserving a rental car or house rental near them at their fingertips.
More Screens
Let's Create Big Stories Together
A-group is the best app development company in town that offers a wide array of services. Whether it is mobile apps, website design, or web development that you are looking for, we can help with all your needs. Our team is ready to help you with your project, no matter how big or small it may be. Contact Ap-group today to learn more about how we can help you!