PDOC
PDOC makes it easy by connecting you with doctors and pharmacies in your area who are knowledgeable about the latest medical advances. You can book doctor appointment online in Dubai or schedule an appointment with a top-rated doctor. It helps you make good decisions when it comes to healthcare because its mission is to provide users with accurate, unbiased information about the right healthcare products and services at the right price.
The PDOC app also has a chat feature, so you can communicate directly with doctors on their portal 24/7 if you have any questions, concerns, or want some advice from a professional. If you are looking for doctors in your specialty, explore its doctor directory, which lists all doctors categorized by what they specialize in.
Features
Sign Up: With PDOC's easy-to-sign-up option, you can book appointment with the best doctor in Dubai. You can choose your specialized doctor with your available slots in just a few clicks. Just enter your details and sign up with the app.
Dashboard: With a dashboard on your mobile phone, you can book doctor appointments online Dubai by simply entering the time slot or day that suits you best. You will then be redirected to a list of available doctors at the selected time and location.
My profile: Your profile gives you full access to your previous doctor appointments and bookings. With our mobility feature, you can also manage your medical records from any device, so it is always there when you need them.
Pharmacy Profile: Find the nearest pharmacies near you, check out what products they offer and find out how much they cost. Selecting a pharmacy opens up more information like their location, opening hours and contact number.
Book Appointment: Enter your preferred time and location, and you'll be shown a list of doctors who work during those times. The doctors' profiles include ratings, reviews, qualifications, and photos, so choosing the right one is easier!
Check Appointment: If you had already booked an appointment but didn't remember when it was or which doctor it was with, you can use my Appointments tab and check your upcoming ones.
Our Approach and Result
We wanted to develop an app offering a one-stop shop approach to accessing healthcare. PDOC is the result of our idea, and our goal was to make it as easy as possible for users to book appointments, find the best deals on prescriptions and compare doctors. The design allows them to see everything they need in one place.
Having developed it, we wanted to test it to see if our users thought it was as useful as we had intended. We surveyed them and found that they liked using our platform because they felt they could get everything they needed in one place.
For many, finding a doctor in Dubai can be difficult due to a lack of doctors available and because scheduling an appointment can often be very frustrating. PDOC gives users all of that and more in one convenient place.
We wanted to ensure that users didn't just feel like they were being given an app and left to get on with it on their own. We also wanted to ensure that we could give them enough guidance and tips. Our users said they enjoyed receiving information about what we could do for them in our emails and through Facebook and Twitter, which helped them understand how PDOC can help with all their healthcare needs.
The Complexities
Healthcare is a difficult industry to navigate. Finding the right doctor, getting an appointment, and then deciding what to do next can be challenging. While developing PDOC, we faced a lot of challenges. The app's design was a major challenge. It should not cause any inconvenience to users.
The app should not cause any inconvenience to the user. A doctor appointment online can be very urgent, so the user experience must be top-notch. The process was difficult for users to adjust to. Even if the app were efficient, many users would not feel comfortable migrating to digital ecosystems immediately.
Third, customers might be concerned about security features in an app even if they were willing to migrate to it. A patient who uses an app to book an appointment with a doctor must enter certain details. They need as much data as possible to ensure that everything is secure.
Despite these complexities, we developed an app that made it easy for patients to instantly book appointments with doctors during an emergency. We did all of that without compromising on user experience. With such a focus on performance and usability, we could provide patients with an efficient way of booking doctor appointment online when they most need them.
More Screens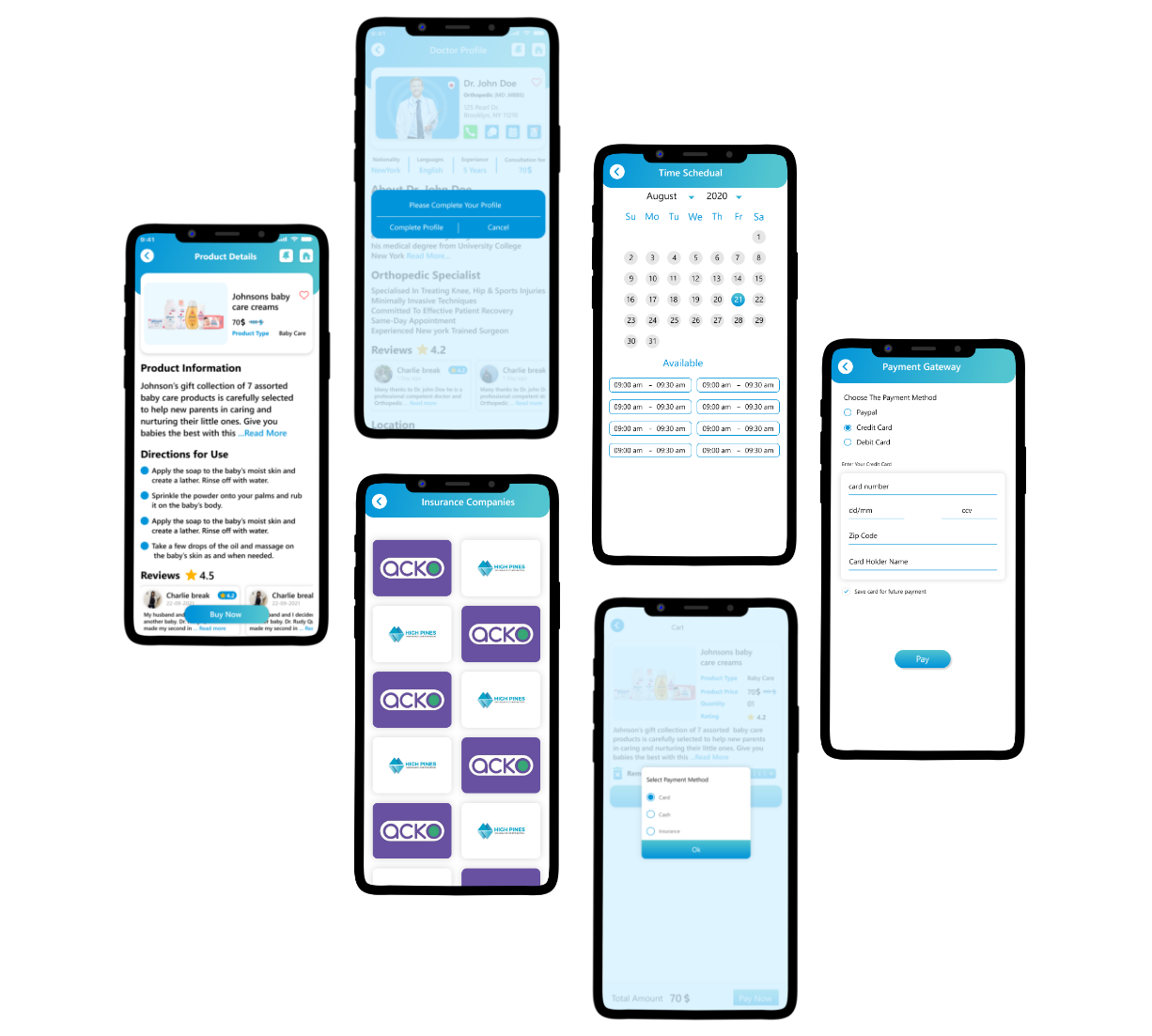 Let's Create Big Stories Together
Ap-group is a leading provider of the best app development company. We have the experience, expertise and know-how to help you create your app idea into reality. With over 150 mobile apps built successfully on our belt, we are confident that we can easily bring your idea to life. Contact us & see how we can help you build an app from scratch!