WEU CART
MultiVendor is an e-commerce app that allows you to browse, shop, and buy from various vendors in one place. The intuitive and user-friendly interface makes it easy to use with a simple swipe or touch. MultiVendor offers an array of products in many different categories, such as electronics, clothing and more.
With the best ecommerce app on the market, MultiVendor gives you access to thousands of items at your fingertips. The best part about the shopping app for mobile phone is that there are no restrictions on what category you're browsing, so whether its' menswear or women's dresses--you can find them all easily through the interface's menu system. We developed this app to support both platforms -android & iOS devices.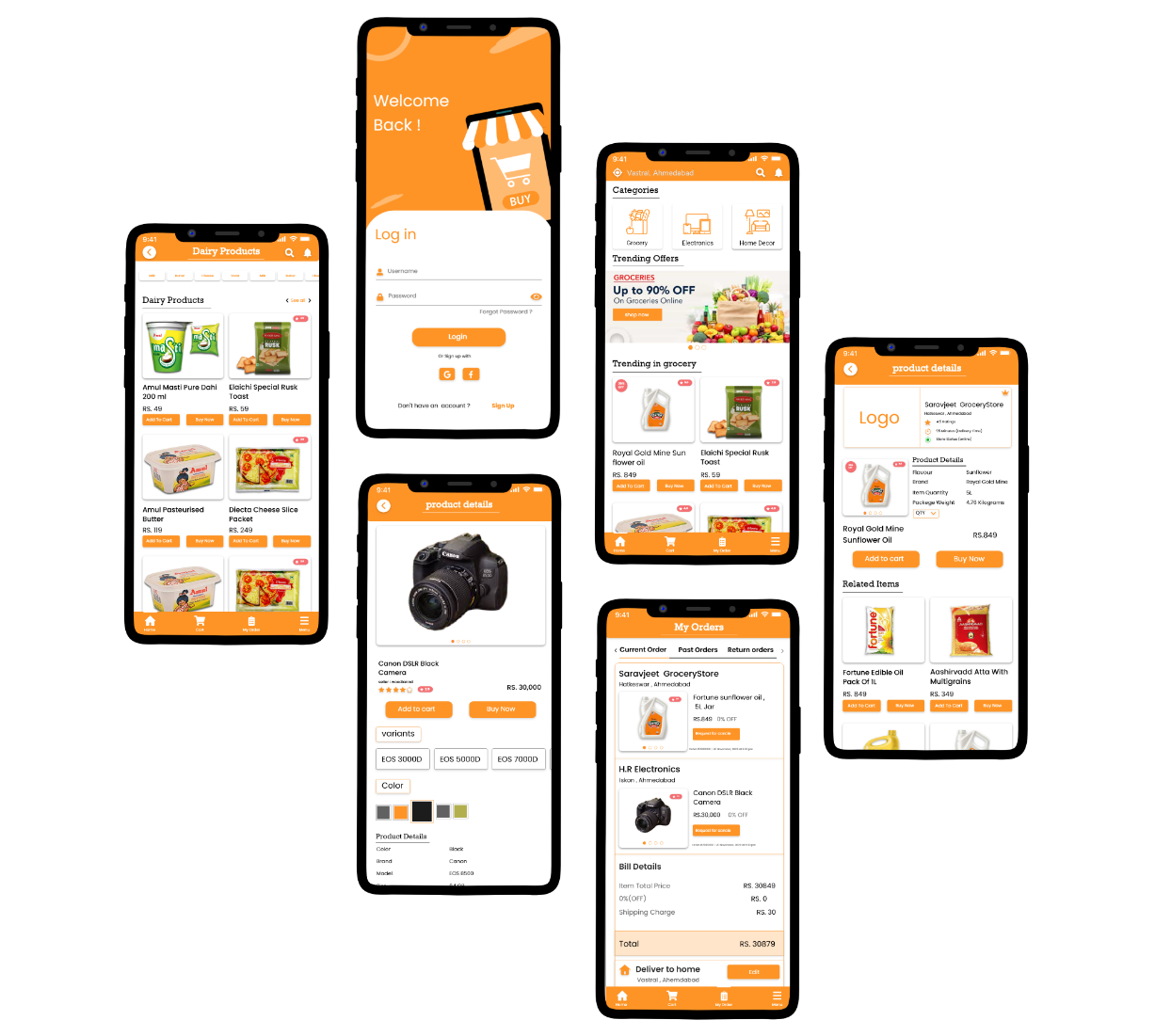 Features
Sign up & Sign In: MultiVendor makes it easy to sign up and sign in with several payment options. With MultiVendor, users can enjoy a well-developed marketplace without any hassle.
Store: MultiVendor also provides an intuitive user interface that simplifies the shopping experience. The store is well organized, saving customers time and allowing them to find what they want easily.
Product & Category: When using MultiVendor as an online shopping app for mobile phone, users can choose from a wide variety of products, including Electronics, Health and Beauty Products, Clothing, Computers and more!
Add to cart: Once you've found your favourite product, you can add it to your cart by clicking on the Add To Cart button.
Notification: MultiVendor notifies customers of everything from order status to exclusive deals. When there's a new update for the app or when there's an item on sale, you get notified of everything.
Order Status: One of the best features of this e-commerce app is how easy it is to track orders placed. You can see all your active orders and their current statuses on one page, making it easier to know when items will be delivered.
Manage Payment: Users have access to various payment methods, including credit cards, PayPal, Amazon Pay and UPIs. Payment information can be securely saved, so shoppers don't need to enter data every time they purchase something.
Our Approach and Result
To make the best ecommerce app, our team considered what customers wanted from an ecommerce app. We looked at other apps in this category and incorporated their feedback. This led to the creation of MultiVendor. Unlike other e-commerce apps that are one size fits all, MultiVendor offers a variety of features tailored to different customer needs.
We discovered that one of our biggest strengths is customer service. When customers find any trouble regarding order status or return, our chatbot hears and addresses their questions and tries to resolve queries as soon as possible.
What sets this shopping app apart is its ability to do so much while being small and lightweight. It offers just enough features that make life easier but isn't overloaded with things you don't need. It's very fast and responsive, even when viewing photos of items, checking prices, reading reviews, managing orders or uploading photos from your device.
We found it crucial to listen to our users and continually improve based on their needs. We are always looking for ways to improve our product and service offerings to improve MultiVendor. Our customer service, however, will never change. We value every customer and their input to continue providing a quality eCommerce app to provide customers with a streamlined shopping experience.
The Complexities
One of the main challenges we faced in developing this app was designing a user-friendly interface. We had to design an interface that did not overwhelm the users with too many features and information. We aimed to make it user-friendly and as simple as possible so that even those new to shopping can find what they want quickly and easily.
MultiVendor is an Online Shopping app for android & iOS. We also wanted to ensure that our app is fully compatible with all devices; no matter which one you own or how old your device is, you should be able to use MultiVendor flawlessly.
Another challenge we faced was location tracking. We wanted to give customers exact and live locations and track their orders. With MultiVendor, you can easily look up your recent orders. This will save you a lot of time because you can view all your previous purchases in one place.
Security was also a challenge we faced. To protect our customers, we made sure that all payments were processed through UPI, credit cards, debit cards and other popular gateways including COD. MultiVendor has built-in encryption and 256-bit data protection features for added security.
More Screens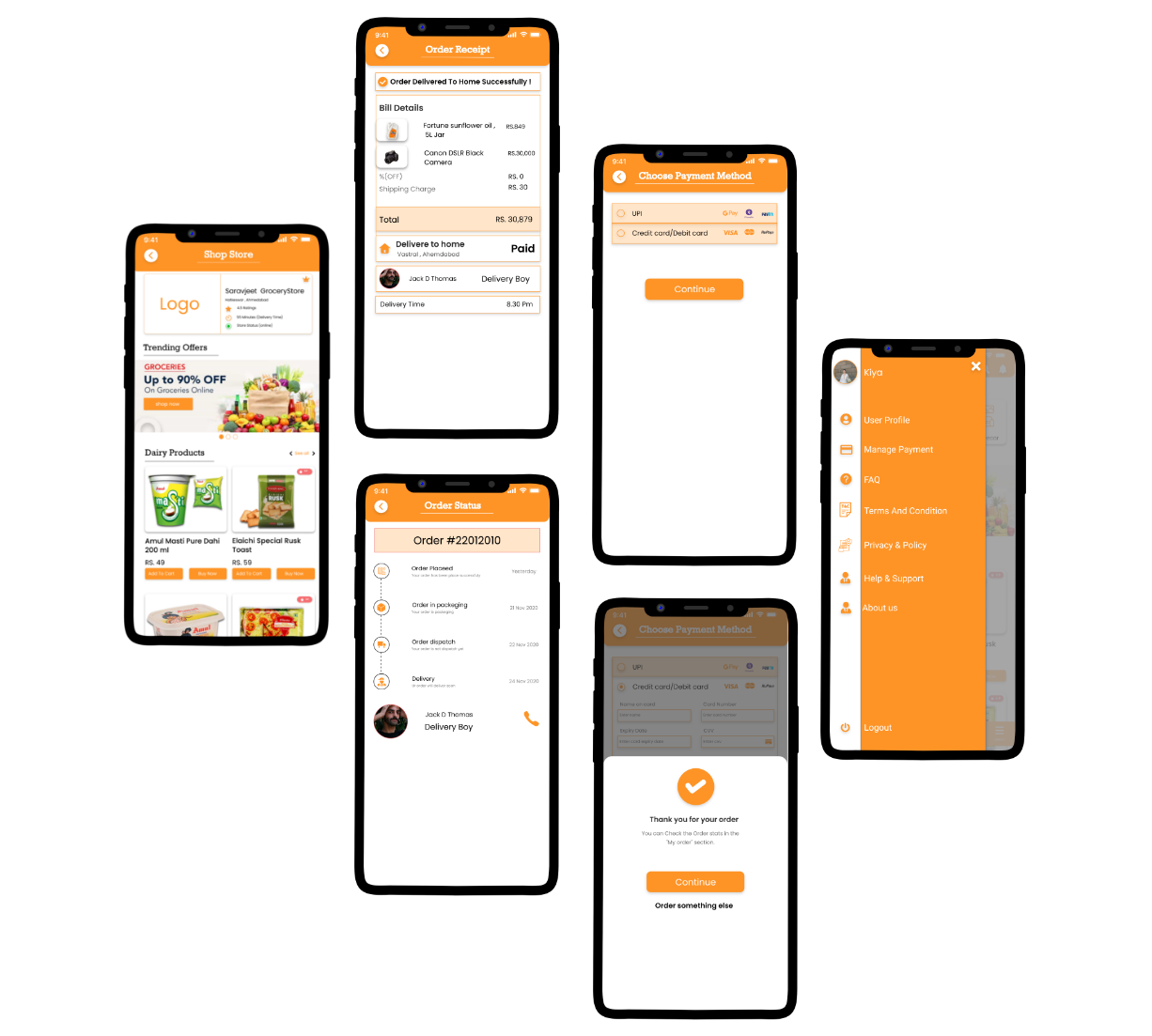 Let's Create Big Stories Together
With the high demand for apps, it is no wonder businesses are looking for the best app development services to help them succeed. At Ap-group, we specialize in creating apps and offer the best app development services regardless of your business's domain. We offer competitive prices, a customer-centric approach and a flawless track record.