Arttales
Art Tales is an app that connects artists and buyers, making it easier for all parties to find what they are looking for. It also allows art collectors to buy from various artists without searching hundreds of websites and apps. This e-commerce app is revolutionizing the art world by giving artists an easy way to sell their work and making it easier for collectors to find exactly what they want.
Buyers can search for exactly what they are looking for among thousands of works of art. With an easy way to find exactly what you want from various sellers, buyers will no longer have to spend hours or even days trying to find something that catches their eye.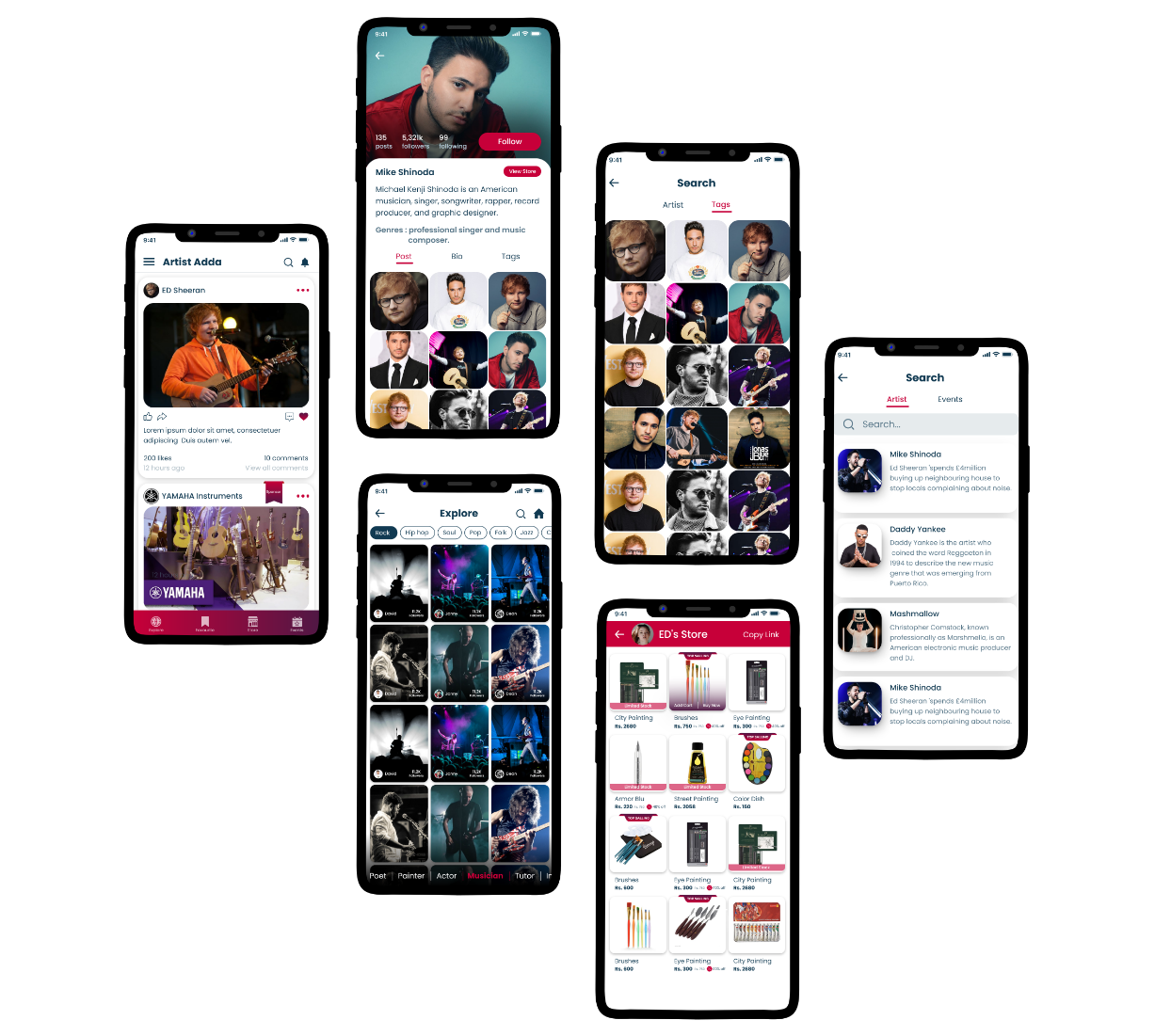 Features
Sign up & Sign In: As an artist, you can sign up to sell your work through Art Tales. Once registered, you can log in to find a new set of features. Artists can manage their stores and check sales status.
Post Artist Work: Selling your art online is easier than ever with our online artist app. You can post any digital file and showcase it on your gallery page with this artist app. You can categorize your artwork so it can b sorted and managed easily within the app.
Chat: The chat feature allows users to get real-time assistance from artists about the app or anything related to ecommerce. Customers can chat with the artist to know details about the specific artwork as well as interact with other customer service needs.
User Profile: A profile can be created by both buyers and sellers to store information such as name, email address, shipping address, bank account number, etc. Sellers can upload photos of their products for sale, including pictures and videos.
E-Commerce Store: Art Tales provides a wide variety of tools to make selling easier. It offers a dashboard where they can access analytics, reports, and statistics, as well as create new listings.
Payment: All transactions on the e-commerce app are encrypted using industry-standard SSL technology. The credit card information will not be stored in any database and is encrypted when sent over the internet.
My Bookings: Customers can use my bookings feature to track all past and future orders. They can view pending and completed bookings, check if their order has been dispatched, add items to a booking, cancel an order or request additional items.
Our Approach and Result
We knew the biggest challenge would be to create a robust platform that could support the various needs of an artist's career. Our team developed a solution with a customizable design, user-friendly tools, and social media integrations. Now artists can use the app to sell their work, connect with collectors and curators, manage artwork inventory, and much more.
The benefit of our ecommerce app for artists is that they can use it to find buyers, share their artwork, promote upcoming exhibitions and communicate directly with potential collectors. This makes it easier & convenient for prospective buyers to understand what they're buying from a technical and visual perspective. The potential impact of our platform is immeasurable.
After weeks of rigorous testing and tweaks, we were ready to release our solution and see how potential users would receive it. The response was overwhelmingly positive, as the reviews show. Today, Art Tales is one of the best ecommerce apps on the market and continues to grow exponentially thanks to its customer-focused approach and high level of customer satisfaction.
Our approach to app development is to consider our user's needs and develop a product that will suit their needs. We believe in developing products with simplicity and function to ensure that our customers and artists can use them. Through this process, we've managed to create an outstanding app for artists and those who love art.
The Complexities
The client wanted to develop a marketplace where genuine artwork could be sold. They wanted an app where what customers see is what exactly they get. They wanted to build trust and enhance their brand value by providing quality services, which we found interesting with this app idea.
When we first started developing the app, our biggest challenge was developing a platform that artists and customers wanted to use. We wanted to ensure that it would be the best place for artists to sell their work and for collectors to find new art pieces.
After months of research, we discovered that the most successful online artist apps enabled artists to upload their content, track their sales and take care of customer service through the app.
With so much competition from other popular and well-established art marketplaces, our team had to think out of the box to develop a unique and engaging application for sellers and collectors. We took care of little details like creating an app icon which will reflect what sort of brand we are creating for them. And today, we are glad that with new features added regularly, these challenges have been met completely.
More Screens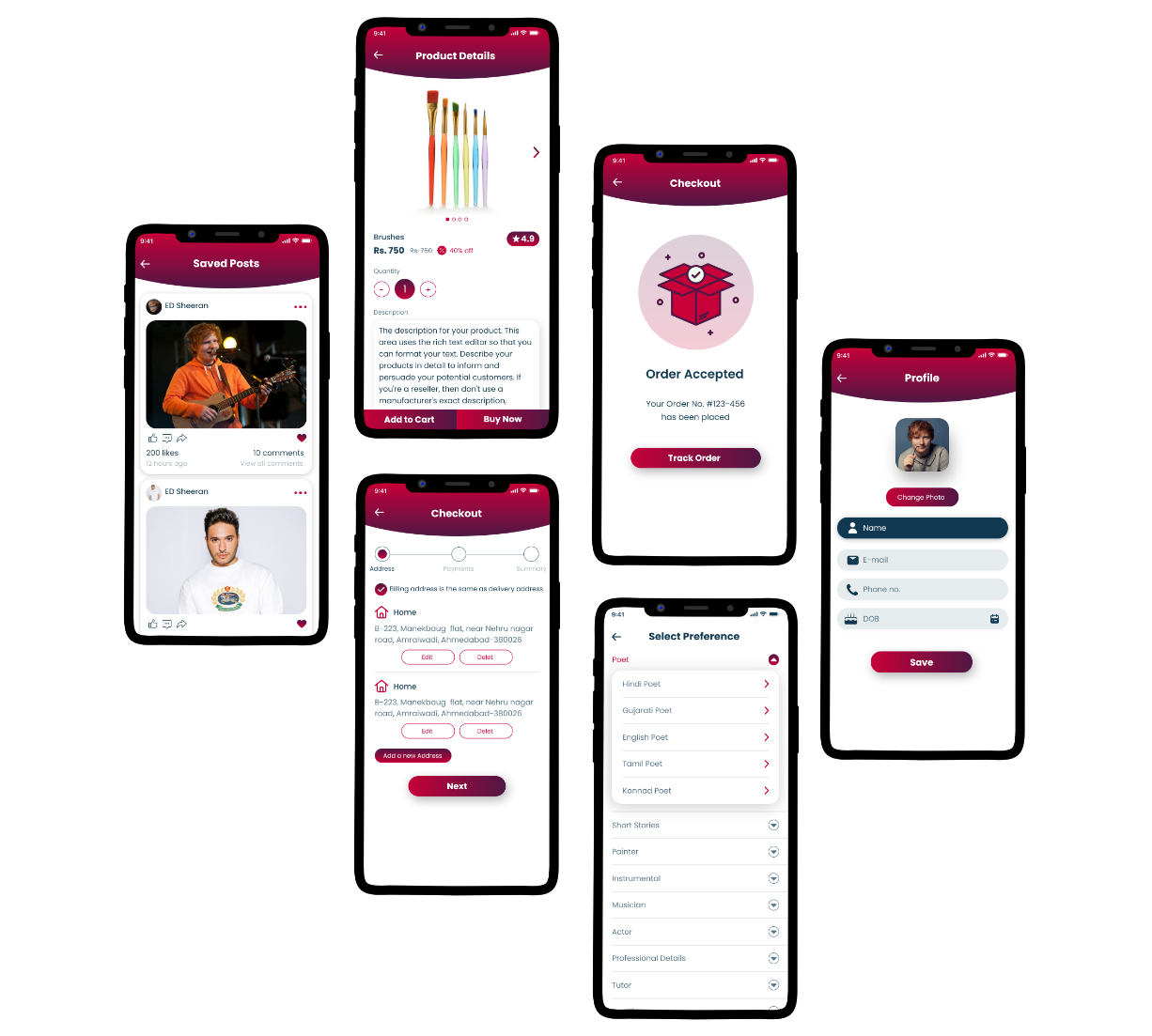 Let's Create Big Stories Together
With the high demand for apps, it is no wonder businesses are looking for the best app development services to help them succeed. At Ap-group, we specialize in creating apps and offer the best app development services regardless of your business's domain. We offer competitive prices, a customer-centric approach and a flawless track record.