Daisies
Art Tales is an app that connects artists and buyers, making it easier for all parties to find what they are looking for. It also allows art collectors to buy from various artists without searching hundreds of websites and apps. This e-commerce app is revolutionizing the art world by giving artists an easy way to sell their work and making it easier for collectors to find exactly what they want.
Buyers can search for exactly what they are looking for among thousands of works of art. With an easy way to find exactly what you want from various sellers, buyers will no longer have to spend hours or even days trying to find something that catches their eye.
Features
Sign up & Sign in: To use Daisies Love, you must create a profile and sign up. You must enter your gender, age and nationality to create your profile. Once you have created your profile, you can search for matches on DaisiesLove.
Swipe: It's easy to go through potential matches quickly by swiping left or right. If two people swipe right (for each other), they are a match, and the app notifies them that they matched with someone!
Photo upload: The app allows you to select from your photo gallery easily and even apply filters for the perfect shot! Check out your perfect match by viewing their uploaded photo and reading through their short description.
Connect Via photo: One of the best features of this dating app is how easy it is to connect with a potential date. Once you have found somebody that interests you, all you need to do is tap on their picture and send them a message directly!
Text Chatting: After matching with a potential partner, you can text chat with them in real-time using the instant messaging function of Daisies Love. Best of all, this app can be best utilized in its free version!
In-App Purchase: For those who want to take it a step further and meet in person, you can buy credits from within the app and take things offline if you choose. Credits can be purchased anytime, so there's no pressure to buy them before you're ready!
Our Approach and Result
When we searched for the best dating app in Dubai, we started with a list of criteria a dating app should have. We then identified and researched over five different apps. After careful analysis, we found a few features that would make Daisies Love the best app for singles looking to find their perfect match. One is real-time chat which allows users to connect at any time. Another is geo-location which helps users find people in their area.
Another important feature is the compatibility algorithm (which determines if someone will be interested or not) and preferences which help match people with similar interests. Combining these four features makes Daisies Love the best dating app in Dubai.
To test Daisies Love, we invited teenagers, adults and single of all ages to use the app. They reported that they loved all its features. They said that real-time chat was very useful because it allowed them to get to know their match before setting up a face-to-face meeting. Also, it helps them set up a meeting at a convenient location for both parties, which makes more sense when you're talking about going on a date!
By choosing Daisies Love as your dating app, you can be sure that there will always be someone to chat with, no matter the time. You can also select exactly what you are looking for and find a partner to have fun with. With thousands of people already on DaisiesLove, there are plenty of chances for you to meet that special person with whom you can share life.
The Complexities
In developing this app, we faced a variety of challenges. The client wanted it to be different from other dating apps, so we were tasked with designing something unique. However, it wasn't easy to know what features would be most important to include and how to design them. These challenges led us to take a different approach to design Daisies Love.
The first task was to set up some basic features that were universal on dating apps, but from there, we could offer a different experience by incorporating an art aesthetic. The images you see on Daisies Love come from original paintings we designed based on our client's specifications. The point is for users to get an aesthetic and emotional experience beyond other dating apps. This is something we at Ap-group love doing. We want to give clients something special and do them justice with their brand.
After making some adjustments, such as adding more photos and videos on the app's profile page and improving its search functions, Daisies Love is now one of the best dating apps for singles!
More Screens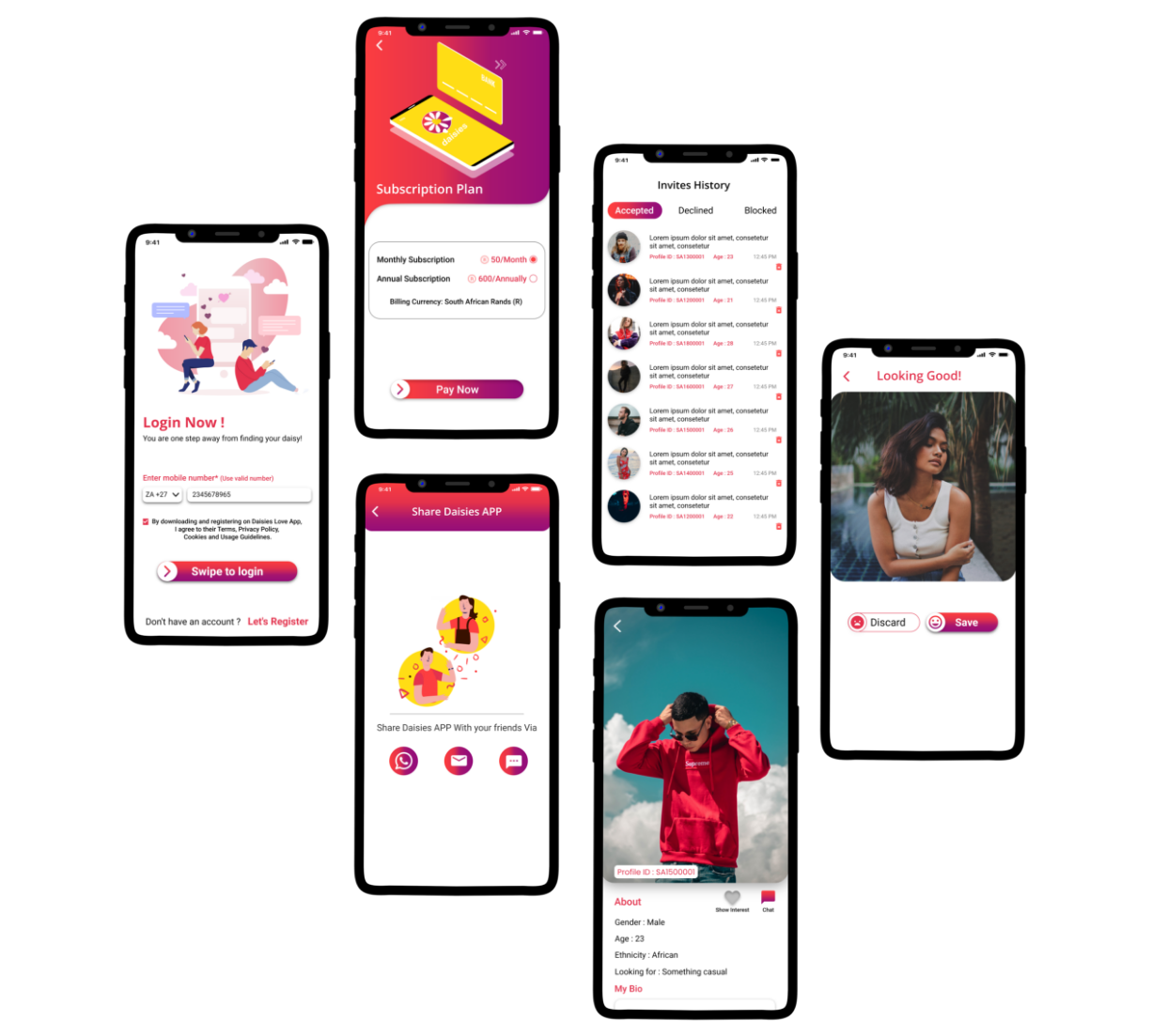 Let's Create Big Stories Together
With the high demand for apps, it is no wonder businesses are looking for the best app development services to help them succeed. At Ap-group, we specialize in creating apps and offer the best app development services regardless of your business's domain. We offer competitive prices, a customer-centric approach and a flawless track record.